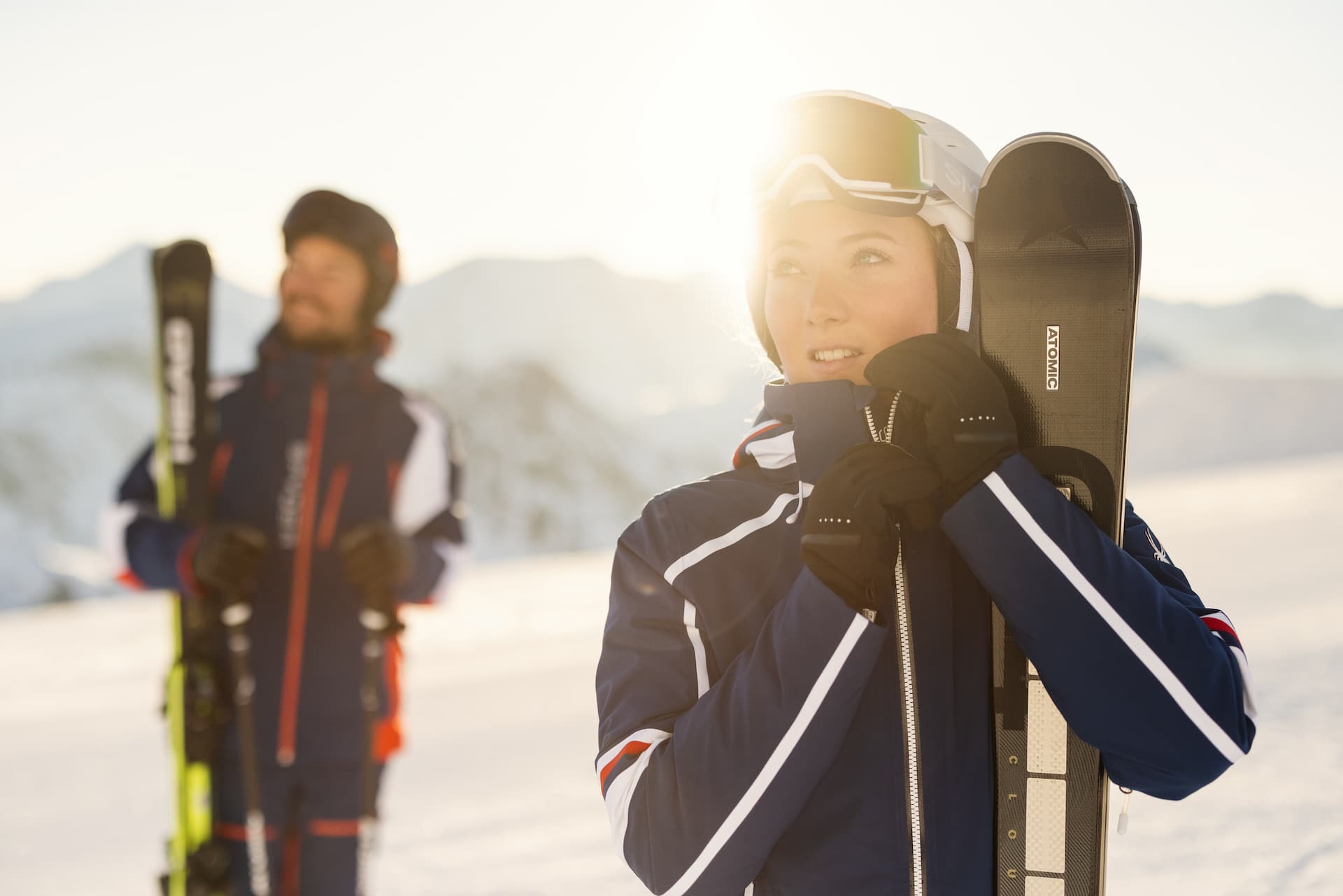 Arrive, breathe a sigh of relief, feel good
Tradition and innovation – expert service and a family atmosphere – these are the secrets of our family business. We, the Koch family and our team, are wholeheartedly committed to your well-being.
It is particularly important to us that your vacation at the
Hotel Koch Obertauern
is a wonderful experience that you will remember fondly.
Selected delicacies
and
exquisite wines
in the restaurant as well as
soothing
relaxation in the relaxation area are just as much a part of this as the
all-round service for skiers
.
We offer you a contactless and hygienic service with our hotel app. We have compiled an overview and all the important information on the:
Arrival, stay at Hotel Koch, ski school, sports store, open ski lifts, web cam, piste map, ski pass prices and much more….
Download the free hotel app -Hotel Koch with App Store or Google Play on your cell phone. This gives you the opportunity to escape from everyday life for a short time before your vacation.
Vouchers
for your vacation
The ideal gift for your loved ones
How about a voucher for a stay at the Hotel Koch in Obertauern or for a ski course? Please fill in the following fields in the form. Do not forget: Enter the voucher amount!
1. enter your data carefully.
2. under "Comment" you can enter your personal text for the voucher.
3. you will receive a confirmation by e-mail after submitting the form. We will also send you an e-mail with the payment information.
4. after payment you will receive your voucher by post.
Of course, all your details will be treated confidentially and will not be passed on to third parties.
Health has the highest priority
Your health during your stay at our hotel is particularly important to us. We have therefore summarized some important points for you.
Considerate handling

If you show signs or symptoms of illness immediately before your arrival, please contact us to postpone your arrival.

If symptoms (cough, cold, ….) of illness are present at check-in, check-in is only possible after a visit to the doctor
Our employees take hygiene very seriously and work very conscientiously in this regard.
We also ask our guests to implement everyday hygiene in our hotel.
Check-In

You will receive the registration form from us in advance by e-mail, which you should complete and return – this will enable us to guarantee a quick check-in

At Hotel Koch, we generally refrain from shaking hands and hugging – we meet our guests with smiling eyes, kind gestures and, above all, friendly words
Health during your vacation

To protect against infection in the hotel, we urge guests and employees to self-isolate as soon as symptoms appear.

Most common symptoms: Fever, dry cough, fatigue

Rarer symptoms: Aching limbs, sore throat, diarrhea, conjunctivitis, headache, loss of sense of taste or smell, discoloration on fingers or toes, or skin rash

Difficulty breathing or shortness of breath, pain or pressure in the chest area, loss of speech or ability to move

If you experience any of the symptoms listed above, please stay in your room and contact reception immediately – we will help you and arrange for a doctor to clarify the matter.
Mindfulness in the dining rooms / buffet

If you are in the dining room or at the buffet, we ask you to be considerate and mindful of other people.
Each family has an assigned table in the dining room (breakfast and dinner)
Tables are not pushed together
You will be assigned a table at lunch
Mindfulness in the relaxation area

Please behave in a hygienic and environmentally friendly manner.
Leave your seat clean.
Massages can be booked through reception
Hygiene and cleanliness

Our own laundry is washed in-house in accordance with strict hygiene regulations.

Employees wear gloves during cleaning
Disinfect surfaces and frequently touched objects (e.g. door handles, taps, TV remote control, etc.) several times a day
Chemical-free cleaning agents/products from Diversey are used
All cleaning agents are also disinfectants.
Mindfulness in the vacation apartments in the neighboring house

Enjoy your vacation in the vacation apartment. For self-catering we kindly ask you to

Daily ventilation
Waste separation
Hygienic behavior

Only the persons who belong to the booking are allowed to stay in the apartments, no visitors are permitted.
Mindfulness in the ski area

When queuing, keep your distance and don't push – it's a vacation
Behave in an exemplary manner and observe the Fis rules to avoid accidents
Observe the safety instructions and adhere to them
Use the disinfection facilities in the public toilets and behave hygienically
Personal responsibility for yourself and, if applicable, for your own family
Follow the instructions of the employees
Our affordable ski packages will inspire you on your winter vacation in Obertauern. We would also be happy to provide you with an individual offer.
Your vacation is just around the corner and you're not sure if you've forgotten something in your preparations? We are happy to help you with a small vacation checklist.
Insurance

Travel insurance
International health insurance
Papers / Money

ID and passport still valid
Visa
Train / Bus – Tickets
Hotel voucher/voucher
Credit card / Maestro card
Driving license (international) valid
Vignette / toll card
Insurance card
Cash
By car

Road maps
Book a rental car
Navigation device
Car inspection
Winter tires
Snow chains
Other travel preparations

Download hotel app
Dictionary in the local language
Note mobile network abroad
Roaming charges
Personal travel accessories

Socket outlet adapter
Hair dryer
Cell phone/MP3 player
Charger, rechargeable battery, batteries, headphones
Camera / video camera
Flashlight
Alarm clock
Health
First-aid kit
General - Don't forget just before departure

Pull out the mains plug
Heating, stove and electrical appliances off
Turn off the water, turn off the lights
Close windows, doors and roller shutters
Switch off the refrigerator
Empty waste garbage can
Answering machine / call forwarding
Inform neighbors (flowers, mail, …)